How to use 7-ZIP to archive and compress your files? 7Zip is a great file compression and archiving tool. However, it's unfortunate how only professionals and advanced users are the ones who know about it. So to give credit to this amazing tool, we will teach you a simple guide on how to use 7Zip. You can also 7zip download from our site.
There are too many file compression programs available online and among the most commonly used nowadays are WinZip and WinRAR. On the other hand, a lesser-known choice is 7Zip. It is free and has the smallest compression compared to the prior options.
The thing is, not many are aware that it is available till the time that it is introduced to them. Thus, they are often clueless about how to use 7Zip or the benefits it has to offer. They are also not aware that it can also have archive errors sometimes.
Is 7Zip safe? Which is a better tool, 7Zip vs WinRAR? Those are the few questions you need to learn after exploring how to use 7Zip so you can manage the 7Zip command line.
What is 7Zip?
Well, 7Zip as mentioned earlier, is a file archiver coupled with a high compression ratio both for GZIP and ZIP formats. This is between 2 to 10 percent better than other tools available.
7Zip boosts its own format delivering a high compression ratio that is roughly 40 percent higher. This is primarily because 7Zip is using LZMA as well as LZMA compression. In addition, it has dictionary sizes and superb compression settings.
Zip tool has gained its appeal and worldwide interests primarily because of its ability to compress files efficiently. However, this doesn't stop 7Zip to show that it can match the bigger and more established names in the industry.
How to Install 7Zip
After the 7Zip download and launching, you will be amazed by how easy and simple to navigate through its user interface. In downloading 7Zip for Mac or Linux, just follow the steps discussed.
Go to 7Zip's home page and choose the version you wish to download.
As of this writing, these are the versions available.

Choose the version you want and click on the "Download" button.
A new window appears which asks you what directory you like to install the program. Choose the destination folder you wish to save the program and click "Install".

Once the 7Zip is installed, hit the "Finish" button.
That's everything you have to do. Now, let's proceed on how to use 7Zip and other vital product details and information.
Inside the window, you'll see the main toolbar containing the most useful features and other menus that let you dig deeper and be accustomed to its UI. Some of the features are briefly discussed below:
Extract – a button that allows you to accept or browse for the default destination path for your file easily.
View – this menu contains the "Folder History" as well as the "Favorites" menu which allows you to save to as much as ten folders.
7Zip can integrate with the Windows Explorer menu which displays archive files as folders. At the same time, it provides a toolbar with a drag-and-drop feature. It is possible as well to switch between a single or even dual-pane view. 7Zip password protect can help you protect the program.
How to Use 7-Zip: Compression
We've discussed and learned the installation procedure as well as a quick overview for 7Zip. Now, we will move on to properly use 7Zip both for compressing files and extracting them. At first, let's proceed with compressing files.


Step number 1. Open 7Zip File Manager.
Step number 2. Click on what file you wish to compress and click "Add". This will identify the file that you need compress.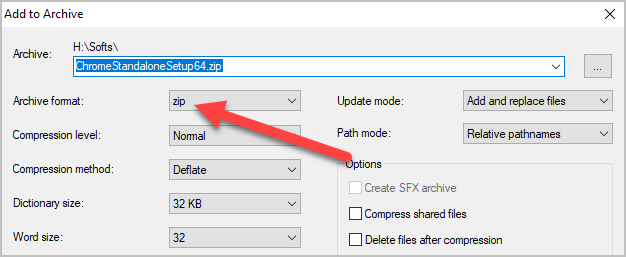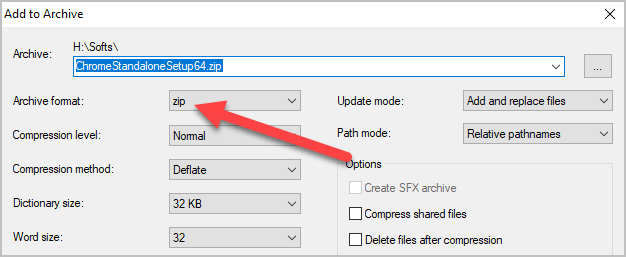 Step number 3. "Add to Archive" window is going to pop up. Ensure that your Archive format is set to "Zip" and then hit the "OK" button.
Step number 4. 7Zip will now process the file and compress it in a zip file that's located in the same destination where the original file is.
How to Make 7Zip Default Windows 10
There are several ways to make the 7Zip archiver as the default setting for Windows 10. the simplest method is by changing the file associations from within the 7zip.
You may wonder how to make 7Zip the default file manager on Windows 10. Luckily, the answer is very simple. You can find the 7Zip icon in the Control Panel and select it. From there, you can choose to make 7Zip the default app for all file types and extensions. Simply click the appropriate buttons and 7Zip will become the default file manager for Windows 10.

The first step is to make sure the 7Zip application is running in administrative mode. After this, double-click it. Then select "Set as default archive manager." When the file manager opens, 7Zip will process it and compress it into a ZIP file. The archived file will be stored in the same location as the original file. If you want 7Zip to become the default archive manager, follow the steps below.

You can then select the 7Zip icon from the Default Programs list. Then, choose the Settings tab and click on "Default Apps". You will now be able to set 7Zip as the default file manager on Windows 10. Once you have done this, click "Set as Default Program" to save your changes. And don't forget to choose the location of the 7Zip folder.

To make 7Zip your default file manager, you need to find it in the Downloads folder. Click on it, and you'll be prompted to choose a destination drive. Once you've done this, the program will display a list of files. Once you have chosen a destination, you can then select a folder in the 7Zip. This program also provides a Favorites menu, which you can add up to ten folders.

The next step in the process is to associate the zip file with all supported file formats. By default, 7Zip is associated with only a few file types, but you need to manually associate it with all supported file formats to ensure the best possible user experience. To do this, you will need to select the "Associate 7Zip with all windows users" line in the Settings window. Once you've selected the desired format, click twice on the right + icon to make it your default zip program.

Alternatively, you can delete the WinZip entry from the registry. To do this, right-click on a zip file and choose "Open with" from the pop-up menu. This will enable the built-in extractor to automatically unzip any zip file. If you don't have WinZip, you can still make 7Zip the default extractor in Windows.

Then, unzipping compressed files is just as easy. After unzipping the file, you can double-click the file to view its contents. The files will be stored in the folder you selected in the previous step. When you're finished, you can delete it and start using it again. In the same way, you can remove the temporary folder. If you want to make 7Zip the default, just follow the steps in the procedure below.
Extraction
When extracting files, there are 5 straightforward steps you need to do. Just check the instructions below.
Select the files that you want to extract.
Choose files you wish to extract and press right-click. This will open a new menu.
Hover over the "7Zip" option.


Choose "Extract Here". This brings up a new window that shows the progress as well as the remaining time before extracting the file.


Wait for it to finish. The extracted file will appear in the same directory where you have all RAR or 7Zip files in.
Product Specifications
7Zip is offering multiple features which makes it one of the best and most effective software compression tools that deliver the lowest compressed data. Few of its remarkable specs are:
Open Architecture – the source code is using GNU LGPL license while the unRAR code is a combination of license with unRAR + GNU LGPL restrictions.
High Compression Ratio – by taking advantage of its own 7z format w/ LZMA as well as LZMA2 compression, it allows 7Z to achieve a 40 percent compression ratio or higher compared to its peers. For GZIP and ZIP formats, 7Z delivers a compression ratio that's 2 to 10 percent better compared to WinZip and PKZip.
Strong AES-256 encryption – this one includes both encryption and password protection of filenames and files.
Ability to use multiple encryptions, conversion or compression methods – to give you an example, 7Z can support several packing as well as unpacking for XZ, GZIP, ZIP, TAR, WIM, and 7z It also has support for a self-extracting ability for 7z format.
Integrates with Windows Shell – by using the menu options, it is feasible to integrate 7z to the Windows Shell menu.
Conclusion
These are the spec sheet that made 7Zip a strong competitor among the leading compression tools on the web. The best part, 7z is available and downloadable free of charge! If you're afraid that you don't know how to use 7Zip, which stops you from switching, follow the steps above. Start to enjoy the lowest compression at no price.